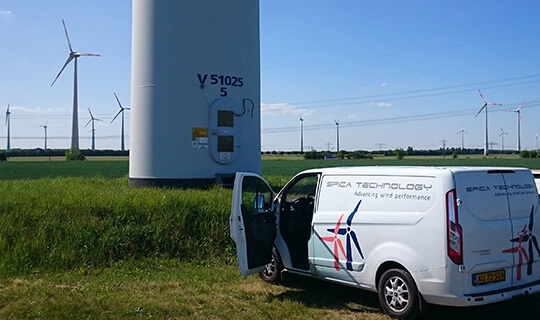 Spica Technology has become the first company in Europe to retrofit two entire wind farms and install SCADA monitoring to all wind turbines. Both projects were carried out in Germany and finalized in 2016. These projects have required immense preparation to make it possible for completion within record time. 
Two German wind farms
These two extensive projects – a wind farm in Nauen consisting of 10 wind turbines Wind World W5200 750 kW and a wind farm in Giersleben with 16 wind turbines – are now equipped with retrofit controllers from Spica Technology and a brand new "plug-and-play" control system, also widely available for a number of aging turbines.
1.The project in Nauen consisted of rebuilding the original west control system, which was replaced with a new Spica SCS Controller. The project was initiated back in May 2015 by retrofitting a single test turbine. The very satisfactory result paved the way for installation of the retrofits in the remaining nine wind turbines in September 2016. The Nauen project was implemented for wpd windmanager, a company engaged in the technical and operational wind farm management. The implementation of the controller was supported by the company psm Nature Power Service and Management, responsible for the service of Nauen wind farm.
Peter Spengemann, Director of Repowering at wpd windmanager, explains:
"We were internally evaluating the strategic approach in optimizing our operating portfolio and reached the conclusion, that one of the few changes, which will impact the operational readiness of a WTG is simply reducing down times and updating or upgrading the WTG controller. This to ensure better communication in the data monitoring, less error codes and unexplainable downtimes, better adjustment of the WTG", and continues:
"Spica Technology is one of the few companies specialised in this task and came with the perfect solution. We are very satisfied with their work performed in short notice."
Also read: wpd sees great potential in retrofitting wind turbine control systems.
2. Retrofitting of the 16 turbines at the wind farm in Giersleben was carried out even faster. The contract was signed directly at WindEnergy in Hamburg during September 2016, just a month after the initial meeting with the customer EnergieKontor AG, who develops and manages wind farms in several European countries.
The entire project was subsequently completed and handed over within three months, during which Spica Technology technicians retrofitted the entire wind farm consisting of 16 Wind World W5200 750kW turbines and completed the installation of SCADA monitoring.
Spica Technology delivers solutions
A mutual aspect of both projects is that they were finalized in record time, from conception to completion.
The scale of these projects have many phases, and before the implementation phase begins, Spica Technology applies our revolutionary installation (a wind turbine specific) kit. This "plug-and-play" system is customised and assembled in-house before the long transportation to the turbine site. This process significantly contributes to the high retrofit installation efficiency and makes it possible to enhance the turbine performance faster.
"However, it's not something the customers demand that it should go quickly. But it is important for us that we do not disturb the customer more than necessary. There will always be disturbances when we start replacing the controllers; turbines produce less, there could be many questions to answer and decisions to make. So the faster we can get the turbines up and running, the less we disturb the customer" explains Benny Thomsen, CEO at Spica Technology. Benny Thomsen adds:
"At Spica Technology, we are very focused on delivering smart solutions and not a headache. We are proud to deliver solutions where everything works, when our technicians leave the site. Furthermore, we provide a full support to all our installations. It gives our customers a peace of mind."
Time-lapse video
This time-lapse video shows Spica's technicians in the tower retrofitting a new customised Spica Retrofit Controller in one of the 10 wind turbines in Nauen, Germany:
Also read: 5-year anniversary on our lifetime extension project in Nauen wind farm for wpd windmanager.
https://spicatech.dk/wp-content/uploads/2020/10/spica-technology-retorfit-wind-turbine-farm.jpg
320
540
Zacharias Westerby
https://spicatech.dk/wp-content/uploads/2023/01/Aktiv-3Spicatech-logo-1030x327.png
Zacharias Westerby
2017-02-26 09:14:49
2023-01-23 13:16:21
Spica retrofits two entire wind turbine farms