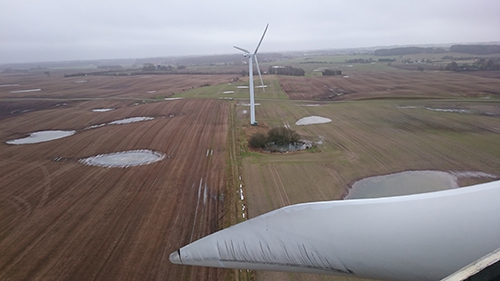 "The Spica Retrofit Controller is running successfully in turbines under our management"
"We needed a new controller for NEG Micon 750 wind turbines. The Spica Retrofit Controller proved to be a genuine plug-and-play system, and our wind turbines were up and running quickly which was important for us," says Jesper Thorsen and continues:
"In our case, the original controller can no longer be bought, and finding a second-hand controller is virtually impossible and pricy. Why risk several weeks of downtime having your controller repaired or attempting to buy a second-hand controller."
"The main thing for us is that the controller works perfectly and keeps on working. The Spica Retrofit Controller has proved that it performs consistently and provides us with a series of valuable data to carry out predictive maintenance. With wind turbines well exceeding their designed lifetime, we want to provide our customers with a proven, affordable alternative to obsolete control systems. We have found that in the Spica Retrofit Controller," states CEO of Wincon A/S, Jesper Thorsen.
Wincon has successfully acquired and installed the Spica Retrofit Controllers in their portfolio of wind turbines under management.
About Wincon A/S
Wincon is one of the leading service providers for wind turbines in Denmark. With more than 30 years of experience and 600 turbines under current service and maintenance, Wincon has established itself strongly in both onshore and offshore wind power management. The company manages wind turbines, on behalf of their owners, in Denmark, Norway, Sweden, Germany and Poland.
This extensive know-how in turbine management has also led to the development of quality grease and gear lubricants with Cougar Lubricants and the production of the high performance, small Gaia-Wind turbines.
https://spicatech.dk/wp-content/uploads/2020/10/Micon-M18000.jpg
281
500
Zacharias Westerby
https://spicatech.dk/wp-content/uploads/2023/01/Aktiv-3Spicatech-logo-1030x327.png
Zacharias Westerby
2020-10-25 06:29:45
2021-05-19 12:40:11
Micon M1800/750kW, in Denmark for Wincon A/S