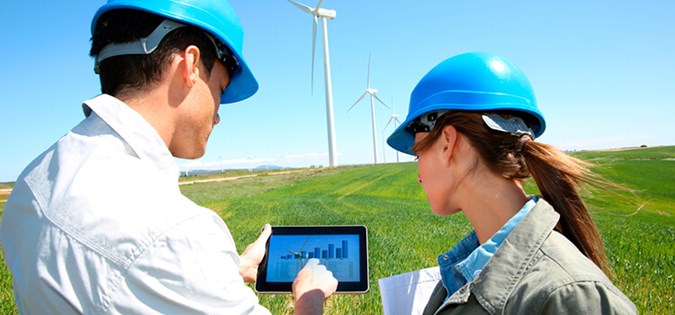 Is lifetime extension of your ageing turbine the right solution?
New Energy Update released a guide in 2018 for wind turbine owners, operators and service providers to guide the decision-making when considering the options for dismantling, repowering or lifetime extension of your ageing wind farm. The guide is still highly relevant as a growing volume of wind capacity in Europe is reaching the end of its designed lifetime.
In the guide, FTI Consulting believes that more than 86 GW wind capacity is expected to be decommissioned across Europe by 2030 based on GWEC figures for installed wind capacity worldwide and a typical design life of 20 years for wind turbines. More than three quaters of this capacity is in just five European countries: France, Germany, Italy, Spain and the UK. In Spain and Germany alone, almost half of their installed wind capacity will be over 15 years old by the end of 2020.
Are your wind turbines part of the European fatiguing wind fleet and reaching the end of their original designed life or could lifetime extension be a possible option? In other terms, retrofitting your existing ageing turbines with new modern equipment and perhaps updated software to gain reliability, stability and increased performance – is it beneficial and profitable for your business?
New Energy Update argues that repowering has become less attractive due to the benefits of lifetime extension:
– Extending the lifespan of a machine typically reduces its lifetime levelized cost of electricity (LCOE) and increases project revenue.
– Regulatory approvals are less challenging than repowering options.
– The average cost of extending the life of an operational wind turbine is 100.000 euros pr. MW compared to 1 million euros pr. MW for repowering.
Make the right decision based on your turbine's data
In the guide, New Energy Update lists several factors to consider in the decision-making of lifetime extension and hereby the options for retrofitting your wind turbine. One of these factors is the general understanding of your turbine's condition. In the guide, New Energy Update states:
"A review of actual loading data – either from historical records or through additional sensor equipment – can reveal the residual usable fatigue life of particular components."
To this, Philipp Stukenbrock of wind consultancy firm 8.2 Consulting AG further adds:
"You need to understand the analytical calculation of your remaining lifetime per main component in order to mitigate costly repairs during operations after 20 years."
Other two critical factors to review are the availability of spares and replacement parts and a contractual review considering consents, leases, power purchase agreements and grid connections. Andy Beetham, Commercial Manager of support service at Renewable Energy System (RES) explains that it all should be done in a cost benefit review as the measures that are put in place need to have a payback. Andy Beetham states:
"If you're fortunate that you can justify an extended operational life without having to change how you operate the wind farm, that would be the best case."
The key element: The control system
One of the key elements in extending the operational life of your existing ageing turbine is the control system. Both Andy Beetham and Alex Byrne, Principal Engineer for turbine technology at DNV GL argue for the justification in upgrading the control system for being a key element in a life extension programme for turbines. Andy Beetham says:
"Replacing the turbine controller in its entirety can improve reliability and reduce down time. That allows us to extend the life, but also to increase performance of the wind farm itself."
Though increased output as a result when replacing components typically implies increased fatigue loads, New Energy Update states that a new turbine controller with more sophisticated control algorithms and additional sensors can increase the performance of a generator and thus more precisely limit structural loading.
A control system fit for lifetime extension of ageing turbines
Since 2014, lifetime extension services and controller updates have been a growing trend due to the ageing wind farms. Major wind OEMs such as Gamesa and Vestas began offering upgrade packages for their turbines. However, third party independent service providers and wind engineering companies such as Spica Technology have been developing and upgraded competitive control systems for years. Whereas the OEMs may offer an upgrade for a certain type of turbine of their own, Spica Technology and other wind engineering companies offer controllers that are fit for lifetime extension and designed for several ageing turbine types to improve reliability and performance. Benny Thomsen, CEO at Spica Technology, explains:
"Many OEMs have difficulties in extracting data from their ageing turbines compared to modern turbines. By exchanging the control system with remote control and adding a monitoring system, it enables the possibility to predict maintenance and compare data between turbines."
How to access your turbine's data
According to Børsen.dk, Vestas plans to share some of its huge data from its turbines to give its customers greater insight. Christian Venderby, Head of Vestas' service sector, says to Børsen.dk.:
"Through many years, we have developed new algorithms that analyse the big data and can identify errors under development or predict breakdowns of components."
Essentially, the purpose with data is to keep down service costs of the turbine. Access to a turbine's data enables:
– More knowledge about the turbine.
– Insights to technical challenges before it happens.
– The possibility to plan maintenance and replacements of components.
– Minimum operational losses and reduces down time.
However, access to the turbine's data is not a new concept. Wind engineering companies like Spica Technology have developed monitoring systems that give the turbine owners and service providers access to their turbines and wind farms. Benny Thomsen explains:
"Our monitoring system has the purpose to keep the service technician out of the turbine as much as possible with remote access to the turbine and a remote control that can restart the turbine. With the monitoring system and remote access, the service technician can predict and plan maintenance to avoid unnecessary service calls to the turbine. Basically, it keeps down the service costs for the turbine owner in the end."
Download the full white paper guide from New Energy Update here.
Are you considering extending the lifespan of your ageing wind turbine farm and want to have more access to your turbine's data? Then do not hesitate to contact Spica Technology to discuss your options for your wind turbine challenges.
https://spicatech.dk/wp-content/uploads/2020/10/wind-turbine-data-lifetime-extension.jpg
315
675
Zacharias Westerby
https://spicatech.dk/wp-content/uploads/2023/01/Aktiv-3Spicatech-logo-1030x327.png
Zacharias Westerby
2018-01-06 13:44:35
2023-01-23 13:21:05
Wind turbine lifetime extension: Are you considering extending the lifespan of your existing wind assets?